Community Partners
Consulate General of Mexico in New York
The Consulate General of Mexico in New York is the consular representation of Mexico that is located in the largest city of the American Union and its staff serves the Mexican constituents living in the tri-state area: New York, New Jersey and Connecticut. The main functions is to protect and defend the the rights and interests of the mexicans nationals, as well as assist and advice those who have suffered abuses, work related mistreatment or from authorities, putting first their human rights' respect.

Cities for Citizenship
Cities for Citizenship is a major national initiative aimed at increasing citizenship among eligible U.S. permanent residents and encouraging cities across the country to invest in citizenship programs.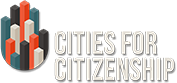 Catholic Charities USA
Catholic Charities USA is the national office for 167 Catholic Charities member agencies throughout the United States and its territories. The mission of Catholic Charities is to provide service to people in need, to advocate for justice in social structures, and to call the entire Church and other people of good will to do the same. The national office represents the Catholic Charities ministry to the federal government, provides a number of professional services to its member agencies, manages grants and other funding sources that are passed on to member agencies, and through its disaster services helps member agencies prepare for and respond to natural disasters. The national office also disburses relief funds to member agencies that are operating in communities affected by disasters.
Business Partners
FINHABITS
With Finhabits, investing in your future could not be simpler. Start building wealth for your future with little effort and time by opening an account on your mobile – it only takes 10 minutes and you can start with just $5 a week. To invest while you save, we'll guide you in choosing a portfolio based on your profile and what's convenient for you. Plus, our fees are low and transparent. Click here and follow the easy steps to open your account today.

Disclosures
These links are being provided as a convenience and for informational purposes only; they do not constitute an endorsement or an approval by Inclusiv of any of the products, services or opinions of the corporation or organization or individual. Inclusiv bears no responsibility for the accuracy, legality or content of the external site or for that of subsequent links. Contact the external site for answers to questions regarding its content.
---